Gaso, 3673-WS, Triplex, Piston Pump (Mud Pump)
Specs
| Spec | U.S. Standard |
| --- | --- |
| Type: | triplex |
| Minimum Piston Diameter: | |
| Maximum Piston Diameter: | |
| Stroke length: | 6" |
| Maximum Working Pressure: | PSI |
| Rod/Piston Load: | 9960lb |
| Gallons per Minute: | |
| Barrels per Day: | |
| Brake Horse Power: | 160.0 |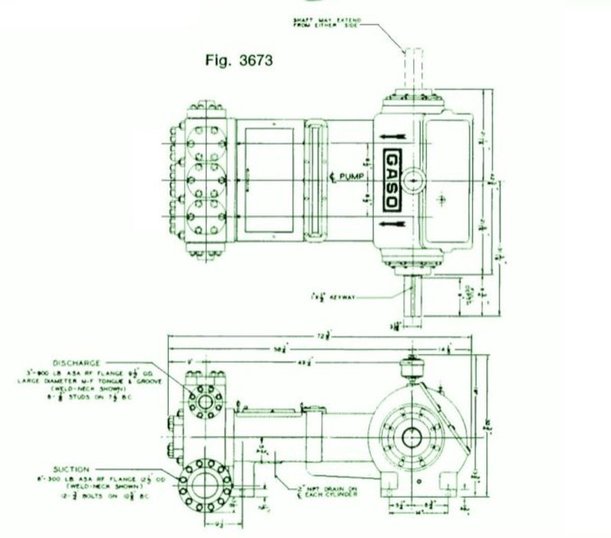 Mouse-over to Enlarge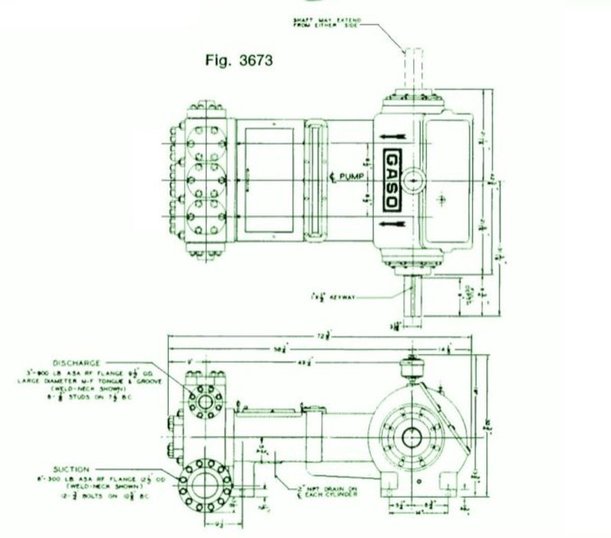 Hover over Power Curves to reveal RPM and GPM
Pump
English Units
50 RPM
150 RPM
250 RPM
320 RPM
Plunger Dia. In.
Plunger Area Sq. In.
BPD per RPM
GPM per RPM
Max Press. PSI
BPD
GPM
BPD
GPM
BPD
GPM
BPD
GPM
3673-WS

N/A
N/A
N/A
N/A
N/A
N/A
N/A
N/A
GASO TRIPLEX PLUNGER PUMPS
Ratings published here in are intended to be used only for preliminary planning purposes, and as such carried no warranties whatsoever. All applications for gas opines must be approved in writing. THE INFORMATION CONTAINED HERE IS TRANSCRIBED FROM A GASO TECHNICAL MANUAL FROMM THE 1960'S - 70'S. IEQ INDUSTRIES OR THE CUSTODIANS OF THIS WEBSITE ARE NOT RESPONSIBLE FOR ITS CONTENT.
GASO pumps are engineered to deliver the book plus values which have distinguished GASO pumps for over 60 years and to provide longer life and lower maintenance costs. Important design features include:
Power End Specifications
Power Frame. High-strength gray iron alloy casting with heavy wall sections well written to ensure rigid construction.
Crankshaft. Mounted with centerline of shaft on centerline of cross heads. Crankshaft may extend from either side of the pump.
Crankshaft Bearings. Interchangeable heavy-duty roller bearings.
Connecting Rods. All triplex plunger pumps are equipped with H type construction rods, with renewable Babbit lined steel backed shell bearings at the crank end and bronze bushings at crosshead end.
Crossheads. Figures 3088, and series 3200, 3300, 313, 3400, 3800, 3900, 3600 and 3700 pumps are furnished with cylindrical type high-strength alloy castings. Series 3500 pumps are furnished with semi-cylindrical typecasting. Cross head tends are hardened and ground steel.
Lubrication. All power and parts are lubricated by splash system from oil in the crankcase reservoir. Power frame has an oil return channel, from front of the cross heads back to the crankcase, to permit constant circulation of oil and to help keep oil cool. Positive power and lubrication is optional for series 3700 pumps.
Stuffing Boxes. Figures 3088 and series 3200, 3300, 3400, 3500, 3800, and 3900 pumps are furnished with double lip "U" cup packings. Series 3630 700 pumps are furnished with a set of four non-crushable lip type packing rings.
Fluid End Specifications
FLUID END BODY. Alloys which are stocked our Molybnenum alloy iron for crude oil and freshwater service, and steel for pumping petroleum products in hazardous locations. Aluminum bronze alloys are used for salt water and other corrosive liquids. Special alloys such as Hastalloy C, Inconel or stainless steel can be furnished upon request.
VALVES. Figure 3211 and 3364 pumps are furnished standard with wing guided type valves and seats. Figures 3365, 3088 and series 3113, 3400, 3500, 3800, 3900, 3630 700 pumps are furnished with stem guided disk type valve assemblies.
CYLINDER HEADS AND VALVE COVERS. 3211 and 3364 pumps with aluminum bronze and Molybdenum alloy fluid ends have threaded valve covers and cylinder heads, all other our bolt on type.
PLUNGERS. Plunger materials are available in: file hard steel,colmonoy's surfaced steel, solid ceramic, and chrome plated steel.
STUFFING BOXES. All triplex pump boxes, with the exception of figures 3088, 3583, and series 3900, 3630 3700 pumps, are board directly into the fluid body. Stuffing boxes are for figures 3088, nerdy 3583 and series 3800, 3900, 3630 and 3700 pumps are replaceable type.
PACKING. Standard packing is a set of non-crushable lid tight packing rings. Other packing can be furnished for special applications.
PlLUNGER LUBRICATION. Furnished by use of grip oilers or regulated flow of oil from a force-feed's lubricator. Lubricate or is mounted on the pump with separate oil lines to each plunger.