Gaso, 1848, Duplex, Piston Pump (Mud Pump)
Specs
| Spec | U.S. Standard |
| --- | --- |
| Type: | duplex |
| Minimum Piston Diameter: | 2½" |
| Maximum Piston Diameter: | 4½" |
| Stroke length: | 6" |
| Maximum Working Pressure: | 990 PSI |
| Rod/Piston Load: | 4850lb |
| Gallons per Minute: | 160.0 |
| Barrels per Day: | 5486 |
| Brake Horse Power: | 31.0 |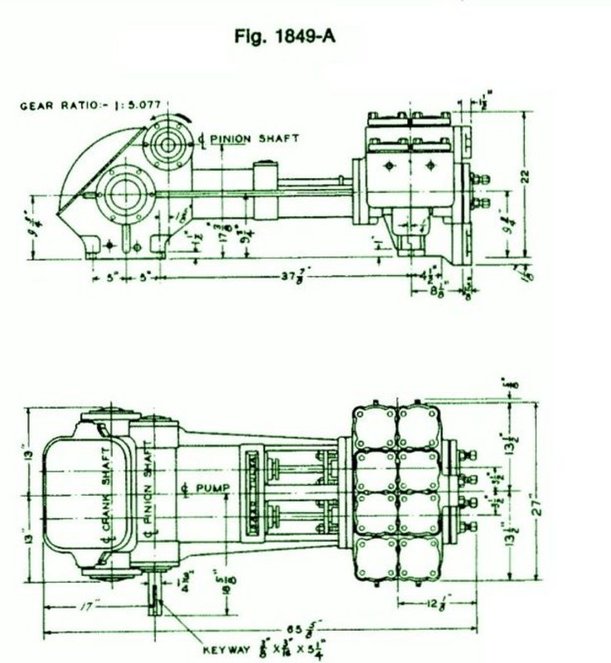 Mouse-over to Enlarge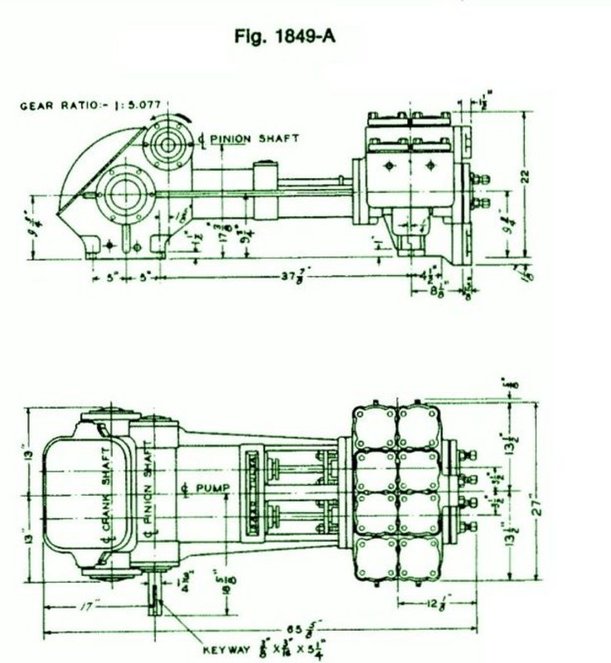 Hover over Power Curves to reveal RPM and GPM
Pump
English Units
50 RPM
60 RPM
70 RPM
80 RPM
90 RPM
Plunger Dia. In.
Plunger Area Sq. In.
BPD per RPM
GPM per RPM
Max Press. PSI
BPD
GPM
BPD
GPM
BPD
GPM
BPD
GPM
BPD
GPM
1848

4.500
15.9043
56.654
1.6524
305
2833
83
3399
99
3966
116
4532
132
5099
149
4.250
14.1863
50.534
1.4739
342
2527
74
3032
88
3537
103
4043
118
4548
133
4.000
12.5664
44.763
1.3056
386
2238
65
2686
78
3133
91
3581
104
4029
118
3.750
11.0447
39.343
1.1475
439
1967
57
2361
69
2754
80
3147
92
3541
103
3.500
9.6211
34.272
0.9996
504
1714
50
2056
60
2399
70
2742
80
3085
90
3.250
8.2958
29.551
0.8619
585
1478
43
1773
52
2069
60
2364
69
2660
78
3.000
7.0686
25.179
0.7344
686
1259
37
1511
44
1763
51
2014
59
2266
66
2.750
5.9396
21.158
0.6171
817
1058
31
1270
37
1481
43
1693
49
1904
56
2.500
4.9087
17.486
0.5100
988
874
25
1049
31
1224
36
1399
41
1574
46
GASO DUPLEX PISTON PUMPS
Ratings published here in are intended to be used only for preliminary planning purposes, and as such carried no warranties whatsoever. All applications for gas opines must be approved in writing. THE INFORMATION CONTAINED HERE IS TRANSCRIBED FROM A GASO TECHNICAL MANUAL FROM THE 1960'S - 70'S. IEQ INDUSTRIES OR THE CUSTODIANS OF THIS WEBSITE ARE NOT RESPONSIBLE FOR ITS CONTENT.
Power End Specifications
Power Frame. High-strength gray iron alloy casting with heavy wall sections, well ribbed to ensure rigid construction and design to fully enclose all working parts.
Gears. Continuous to Sykes herringbone construction. Main gear is heat treated high-grade ductile iron. Pinion gear is cut from forged alloy steel and hardened.
Crankshaft. Have a center section for mounting main gear. Large diameter crank pins
Pinion Shaft. Alloy steel bar stock, machine and precision ground.
Bearings. Heavy duty tapered roller bearings on crankshaft. Self-contained double roll bearings on pinion shaft to permit free floating of shaft for self centering of peers.
Connecting Rods. Heavy cross section castings with renewable Babbitt lined steel shell bearings and crank and; bronze bushing in cross head end.
Lubrication. All power and parts including gears, cross heads, connecting rod bearings, crankshaft bearings and pinion crank shaft bearings, are lubricated by splash system from lubricant in crankcase reservoir.
Fluid End Specifications
Power Frame. Alloys stocked are Molybdenum's cast iron and cast steel. Fluid ounce can be trimmed out for pumping various liquids. Ductile iron can be furnished upon request.
Cylinder Heads. Heavy section alloy casting to match material of pump fluid body.
Valve Covers. Heavy section alloy casting to match material of pump fluid body.
Liners. All pumps are available with interchangeable pipe liners. Standard materials available are Molybdenums alloyed iron, file hard steel and special corrosion resistant liners.
Piston Rods. Various rod materials are available. These are: steel, bronze, stainless steel, file hard steel, and chrome plated steel.
Pistons. Molly–iron and bronze bodies fitted with various types of rings or cups are available.slush service pistons can also be furnished.
Valves. Valves and seats are available as follows: hardened and ground steel wing guided, bronze wing guided, steal or bronze insert type, direct blood valves for use on cast iron or bronze seats. McClatchie and mission can also be furnished.
Stuffing Boxes. All duplex pumps are furnished with replaceable type stuffing boxes which are available in cast iron and bronze.
Packing. Standard packing is a set of lip–type packing rings. Other packings can be furnished for special applications.
Stuffing Box Lubrication. Furnished by use of regulated flow of oil from a force-feed lubricate or mounted on the pump, with a separate oil line to each stuffing box.